Red Arrow Root Beer Review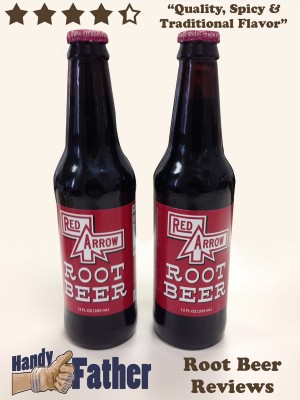 The Red Arrow Root Beer Review was a pleasure.  It is a spicy, flavorful root beer with notes of wintergreen and licorice.  Red arrow root beer is really good overall experience.  The frothy head and color were nice and the effervescent aroma matched the flavor nicely. Purchase a Red Arrow Root Beer 12 Pack – $27.00
One of Handy Father's root beer reviewers said:
Interesting flavor, with notes of spearmint. Tastes like a real rootbeer….spicy, creamy, and yummy!
Red Arrow Root Beer from Michigan, is know for authentic root beer flavor. Folklore says the brand was a tribute to the Red Arrow Brigade.
The Red Arrow Brigade were activated into duty in the "Great War" otherwise known as WWI.

This brigade was made up of men from Wisconsin and Michigan. A significant number of the men from Michigan were from the Lowell area.

In WWI, the Red Arrow Brigade fought their way through the German lines in some of the most fearful fighting. Germany regarded the Red Arrows to be the toughest group of men that they had to go up against.

The Red Arrow Brigade really got to be known as a fighting machine in WWII fighting the Japanese. Gen. Douglas MacArthur requested that the men with the bold red-arrow insignia on their sleeves be sent straight into the heart of the Pacific war. They were the first U.S. division to be airborne into combat.
We gave the Red Arrow Root Beer Review a score of 4.25 out of 5 stars for its spicy bite, and authentic root beer flavor.
Red Arrow Ingredients: Carbonated Water, Cane Sugar, Natural and Artificial Flavors, Caramel Color, Phosphoric Acid, Extract of Wintergreen and Licorice, Sodium Benzoate (a preservative).
Red Arrow is bottled under the authority of the Orca Beverage Soda Works in Mukileto, WA.
Purchase a Red Arrow Root Beer 12 Pack – $27.00
Have a Red Arrow Root Beer Review of your own?  Tweet @handyfather.