Kutztown Root Beer Review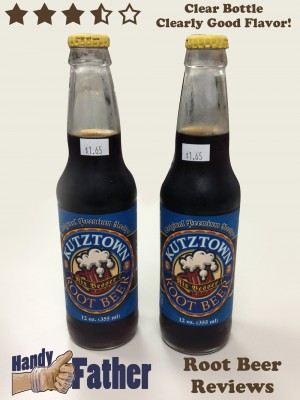 Another root beer in a clear glass bottle; the initial impression of the Kutztown Root Beer Review.   Kutztown root beer has Yucca Extract as the primary flavor ingredient.  It produces a pleasant licorice flavor.  We poured some Kutztown Root Beer into a frosted mug to find an interesting reddish-brown head, not too much, but it was good.
There is a slight bite, but goes down nicely.  I'd definitely consider a Kutztown root beer when available.  It is a quality brew.
A nice thing about this Kutztown, Pa. brew is that it's made with pure cane sugar.  It is a good straightforward  root beer.
We gave the Kutztown Root Beer review a score of 3.25 out of 5.
"When you're bad for something mighty good, reach for a foamy mug of Kutztown Root Beer! Tastes just like old-fashioned, 'cause you know we make it that way. Drink 'til you ouch. there's more back!"
Many of the root beer reviews we have done at Handy Father Root Beer Reviews have been better than this one, but plenty have been worse!!