Getting my house ready to sell
We are ready to move on to a new house.  This means getting my house ready to sell.  There is a lot of information about selling your house out there already, but my two cents are mine alone, so I might as well share my feelings about it. Real estate professionals may disagree with some of the following, but this is my opinion:
Don't paint everything neutral! Gross!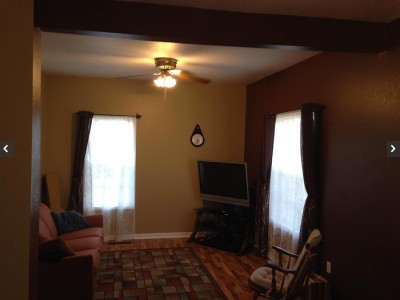 For years the "experts" have told us to go neutral, but I think this is a misstep. Who (apart from apartment landlords) wants every room to be beige or white?  No one! That's Who.  I'm not saying that since your favorite color is neon green, you should paint the living room in that shade.
Rich and vibrant colors make a house a home.  The way I see it, the next owner of the house is either going to love the color of the rooms or not.  If they love it, it's move-in ready and no works is needed to paint.  If they don't like your color choices, it really isn't any different for them since they'd have to paint over the neutral colors to make my house their home!
Color choice isn't the only thing to leave behind.
I recommend leaving all appliances and curtains / drapes.  Chances are high, you won't want the same curtains in the new house anyway.  It will be nice for the new home owners to have privacy while they move in and settle. Getting my house ready to sell is no work at all when I can leave my stuff behind.
The shower curtain is no exception.  It matches the rich tones (or at least compliments them) so why not leave it there?  New home owners will appreciate having a shower curtain on moving day when they're tired and dirty from unpacking.  Who wants to run to the store to get a shower curtain before taking a shower?
Getting my house ready to sell: the big things
De-clutter
Colors and curtains aren't the only worry when selling your home.  Make sure everything is clean, and the clutter is removed.  I always remove most of the personal items like family photos and kid's artwork.  It is easier to envision my house as the new owner's home if they don't see my family everywhere they turn.  This is why realtors show the house instead of home owners.
Clean
Sweep the floors.  Wash the windows. Make sure all of the lights and electrical sockets are functioning properly.  Make sure all doors and windows latch securely. Clean doors, hand railings, and walls near light switches.
Add Value
Thinks like building a deck or finishing the basement will add value too, if you have time to do these projects.