DIY deck building: Physical Fitness day 9
When I woke up this morning all I wanted to do was build a deck… err  Well, maybe that's not the first thing I thought of, but it ended up being about 4 hours of my day.
After a nice morning at the church, we headed home for some bratwurst, hotdogs, and corn on the cob for lunch.  As soon as the meal was over I joined my father-in-law at his house to help build his deck.
DIY deck building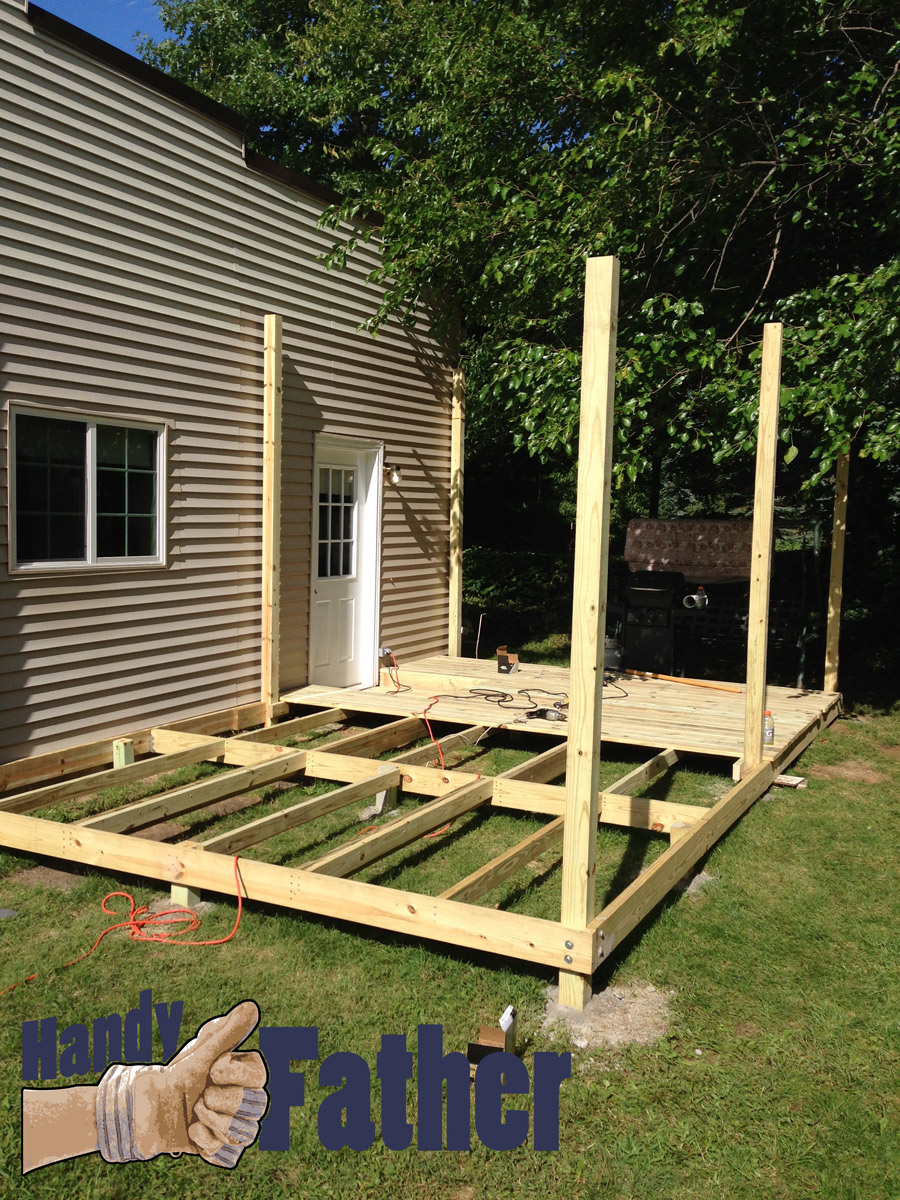 I'm pretty sure that most people use DIY deck building because building your own deck saves a lot of money as compared to hiring it our.
The deck we've been building is framed on ten 4×4 supports, evenly spaced.  The corner posts and center posts extend vertically because when finished, the deck will feature a roof.
The posts are cemented into 24″ deep holes.   The framing was fully done with 2×6's around the perimeter, and then crossing every 5′.  The 2×6's are lag bolted into the 4×4 supports. Then cross members were put in using 2x4s with 3 1/2″ screws.
Most of the above was already done as of today.
Our DIY deck building today was attaching the actual deck boards to the surface of the framing.  We used 3/16″ spacers on the ends of the deck boards and got about half of the decking installed.  The deck boards used are standard deck boards.  They are 5/8″ thick and 12′ long pretreated wood.
I spent about 4 hours doing most of the pre-drilling and screwing of the deck boards.  We pre-drilled the ends of the boards to prevent splitting.  The pre-treated wood has a high moisture content and doesn't split easily, but you can't be too careful.
Not only is DIY deck building a rewarding process because of the money saving benefits, but it is also a pretty good workout.  Drilling, Screwing, and squatting down all day makes a nice deck, and I'm sure to be sore tomorrow!
Not a traditional workout day, but I did also complete the ab challenge day 2 as well as 3 pul-ups (wow I know).
Ab challenge day 2:
20 sit-ups
15 leg lifts
8 crunches
15 seconds plank