Turn a summer kitchen into a yoga studio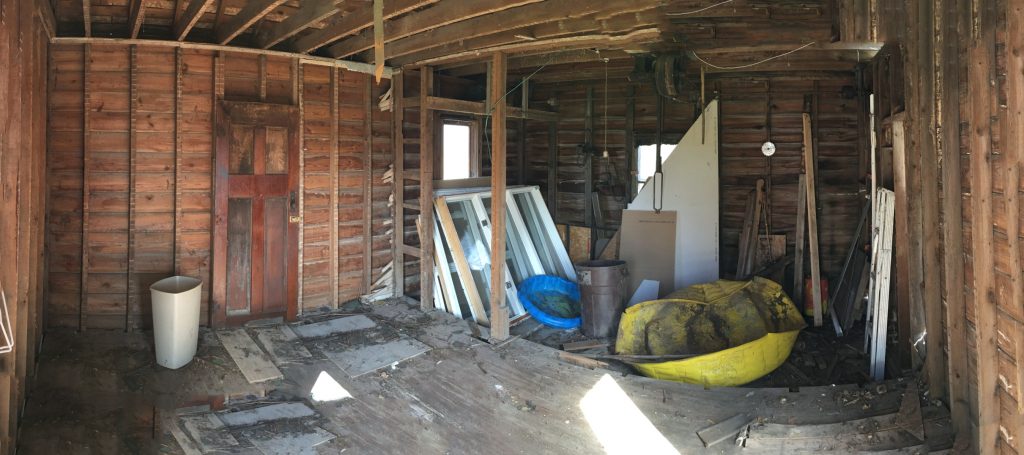 This is the inside of an out-building on my property.  It is native wood construction on a concrete foundation.  It is 20′ from east to west and 16′ from north to south. It was built in approximately 1901 along with the main house on the homestead.  It is the perfect size to do a little yoga studio for my wife.
I have a lot of work to turn this summer kitchen into a yoga studio, but a little hard work will pay off in the long run and turn this currently unusable space into something my wife will enjoy for years to come.
This post will serve as a running list of projects left to do as well as links to projects completed for total yoga domination.
If you've followed along with previous posts, you may recognize that I have already replaced the roof on this building.  It had gaping holes in it, so that's where I started this remodel.  I didn't see a point in improving the inside if water could also get in.  With a new roof, these are the projects left to do before the yoga studio can become a reality:
Remove the rotten floor and misc. junk
Assess the existing joists for their integrity (FYI, they were completely rotted…)
Remove all old joists and do cleanup
Remove old well apparatus
Make a parts list for flooring/order wood
Replace framing / structural damage
Build a new floor with joists, sheathing, insulation
Remove Old Windows / Install windows
Install new exterior door / build a door frame / Door hardware installation
New electrical system / breakers installed and upgraded
Ceiling joist cleanup and staining for a unique ceiling
Run new wiring for can lights, recepts, attic lighting, and baseboard heat
Install drywall
Install custom reclaimed wood wall
Paint Walls
Install Cork Flooring
Install baseboard heaters and thermostat
Install trim, window sills
Install curtains
Ikea shelves / custom yoga mat holder
Secret project for my wife
Build and install monkey bars and punching bag in studio
Install TV and DVD player for yoga studio.
Build entry stairs for studio
Exterior work / painting / siding / misc.
Host an open house party for my wife's yoga clients!
This is a monumental project!  It seems that to turn a summer kitchen into a yoga studio will be the biggest single project I've tackled to date, but hopefully will be the most rewarding as well.
As I complete tasks above, there will be links to the related project posts.
Please comment and share the projects with anyone you think would benefit from it!