Stained Glass Windows At home business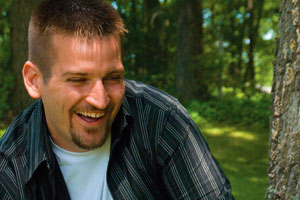 There is a man who designs and builds stained glass windows for clients all over the country.  This handy father works out of a shop in his basement.  John Miretti is a father who designs Stained Glass Windows.
"At Miretti Stained Glass, everything is about you, the customer. If you need to meet a deadline, fit a tight space, or take your time deciding, we are flexible. We want you to be totally happy with every part of your project. If you need to liven up a drab room, brighten up a dark space or simply add a taste of the timeless to your everyday life, Miretti Stained Glass is the tasteful solution.
Since 2000, Miretti Stained Glass has been the perfect addition to every setting. Cabinetry, picture windows, doors, and even church sanctuaries are the perfect home for my artwork. In every piece, I combine high quality, beautiful designs, vibrant colors, and a balanced composition to bring you the most wonderful form of art, stained glass! Take the time to browse my site and see how I can add color to your life. In it, you will find all you need to obtain your own Miretti original as well as examples of my recent work. I truly hope you will find my work inspiring and my website helpful as you consider settings and applications for your own piece of Miretti Stained Glass."
Custom Stained Glass Windows
In 2010 I had John design a stained glass window for a door in my house, and it turned out great. You can see the joy that Miretti has for his work in every detail of a finished piece.
Designing stained glass windows is an excellent home business for this handy father.  It is fairly easy to find places to give lessons for making stained glass, and even Miretti teaches lessons.
Even if stained glass windows are not your passion, and you don't want to do it for a living, it is certainly a handy skill to have.
Contact John Miretti at his website: www.mirettistainedglass.com
DIY Custom Stained Glass Windows
As a beginner to making stained glass windows, you'll need a few tools and materials:
100 W soldering iron
Pencil grip oil cutter
Grinder with 3/4″ grinding bit
Glass breaking pliers
Colored, transparent glass (a spectrum is recommended).
One roll black backed foil, 7/32″ width
One lb 60/40 solid core solder
Flux for stained glass
Black patina
Black marker for glass
This is not a tutorial for making stained glass windows, but there are a few books that are valuable resources if you're going to teach yourself.