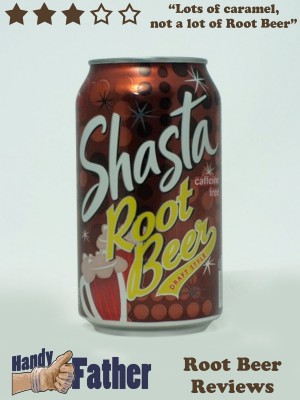 This is the least expensive root beer purchased thus far.  The Shasta Root Beer Review was conducted from a 2.5 liter bottle at a cost of $1.00. Shasta is another one of those 'generic' root beers.  This was purchased at a Dollar Tree store.
Shasta root beer has a strong caramel flavor, and that overwhelms any other root beer flavors in the soda.  Very sweet, highly carbonated and lacking in character, but it isn't a bad taste overall.
Shasta is available in cans and larger plastic bottles, and is apparently fairly popular in the west.  If I get to do any traveling, I'll give it another try in another region.
We gave the Shasta root beer review a score of 3.0 out of 5.  It was middle-of-the-road in color, its frothy head, and flavor.
Not a bad option for cheap root beer, but pass on by if you're looking for a root beer of substance.
"All Shasta sodas are gluten free and contain very low sodium, 35mg or less per 240ml (8fl oz) All of our flavors are caffeine free with the exception of Cola, Diet Cola, Cherry Cola, Mountain Rush, Dr. Shasta and Diet Dr. Shasta."
Ingredients: carbonated water, high fructose corn syrup, caramel color, natural and artificial flavor, potassium benzoate.