Sending online flowers has never been easier
Handy Father was approached recently by a new type of flower delivery service. It is near Mother's Day, so it seems a perfect fit to talk about now. I don't usually get into the whole flower market a whole lot because you never know what you're going to get. Sending online flowers has never been easier than with The Bouqs service. I clicked the "Just Because" link on the website, and found a beautiful bouquet of roses to buy for my wife.  Once I added it to the cart, I found that every order has free shipping and it was very simple to navigate!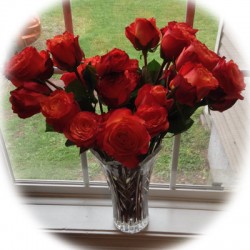 The Bouqs website lists two options for flower locations.  The first option is for delivery from a fully-sustainable volcano side farm which is located next to the equator in the perfect environment for growing amazing flowers.  The second option is for next-day service, at least in the U.S., and is located in California.
When I made my flower purchase, I chose the Volcano-side location, and bought a bouquet called Dawn Deluxe. It is an arrangement of orange roses.
"Our Orange premium Roses are a magical sight when fully bloomed. Grown on a Volcano and cut-to-order, this flower bunch will blow them away like a breathtaking sunrise.  Our flowers are shipped straight from our eco-friendly, sustainable farms on the Volcano to your recipient's door, with Free Delivery!"
When the Bouquet arrived, I was shocked to see how well-packaged it was, and the simple care instructions that came with the flowers made the whole process a joy.  These roses are very fragrant, and every bloom is perfect!  I would never have thought this possible with a product delivered across the globe, but I will certainly order from thebouqs again!