Self Defense Class for Church Security Teams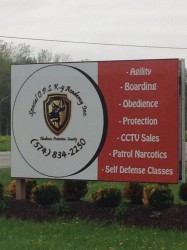 The church I attend in my hometown, Vineyard Community Church, has a Security team.  I am on this team.  Together we have made an effort recently to come up with a range of plans in the event of emergencies from hostile intruders in the church building to weather-related issues that may arise.  The safety of the congregation is of the utmost importance. We were recently approached by Brian at the Special O.P.S. K-9 Academy which is very near our church in Syracuse, Indiana.
We are engaging in a 6-week self defense class for church security teams.
In this day in age, the reality is that we must be prepared for anything.  It isn't enough to stand idly by when there is real danger present.  There have been a couple of instances where a questionable character tried to enter our church building during services.  You never know when someone else might mean to do you harm by physical force, theft, or whatever their agenda might be.  Brian is offering this self defense class for church security teams, as well any anyone who has need of these skills.
In our first self defense class session, Brian taught us a valuable move which included a method for taking down an aggressor who is coming at you, trying to push you away.
In the next 5 weeks we will be learning a range of offense and defensive moves to keep us safe, and if the situation would demand it, incapacitate an aggressive person.
Our church's security team wasn't the only group that came out.  We had a few women from the church who are in the children's ministry.  Brian made it clear that anyone can use the techniques he is teaching to keep themselves and others safe.
Self Defense class for church security teams isn't really something I've thought of before just recently.  I am glad however, that I'll be able to make practical application of these techniques should the need arise.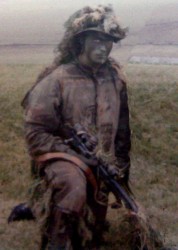 Brian Gagye, owner of Special O.P.S. was a Sergent in the United States Marine Corps, and was a special O.P.S. sniper
"I have been studying mixed martial arts for over 30 years and have taught hand to hand combat in the U.S. Marines as well as for law enforcement officers. I have taught Boxing, Aikido, Taekwondo, and Jujitsu.

My wife and I also have experience in helping individuals cope with abuse, neglect, and low self-esteem."

All classes are private classes only.  Call Brian at 260-466-8929 for more info.