Natural Brew Draft Root Beer Review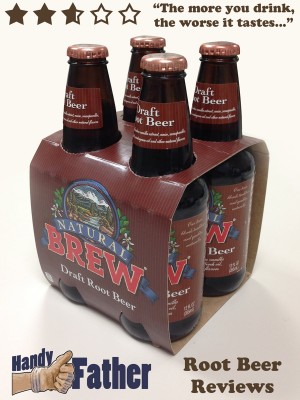 Natural Brew Draft Root Beer
Review by Handy Father.  Sadly on this one, the more you drink, the worse it tastes.  Natural Brew Draft Root Beer starts out with a very good smell, but it goes downhill quickly.  The bourbon vanilla that is touted on the label gives this brew a slightly fermented flavor that gets stronger as you near the bottom of the bottle.  When poured into a frosted mug, the head on this root beer is adequate, and inviting.
"A draft root beer unlike any other. To give our root beer a subtly rich, creamy flavor we add vanilla extract and other natural flavors to our recipe.

Natural Brew Draft Root Beer is created one small batch at a time with constant attention to every detail – using only the finest ingredients."
The micro-brewing process leaves the opportunity to try this again, assuming that maybe we got a bad batch, but if the label is to be believed, they pay attention to every detail.  This would mean the flavor is intended, spelling bad news for root beer lovers.
"A complex flavor of bourbon vanilla extract, anise, sarsaparilla, licorice root, birch oil, wintergreen oil and other natural flavors."
We gave the Natural Brew Draft Root Beer Review a 2.75 out of 5 stars.  The more you drink, the worse it tastes.
We at Handy Father do not mean to say that this root beer is the worst we've tried by any means, and that you shouldn't formulate your own opinion of this root beer. This Natural Brew Draft Root Beer
can be purchased online, but it will be cheaper if you can find it locally.
All of the Handy Father Root Beer Reviews are conducted by 5 self-proclaimed root beer aficionados.  We love our root beer!  Comment below or tweet @handyfather, and let us know what you think of this brew.