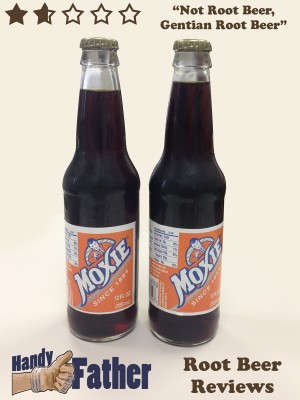 Moxie Root Beer Review would more accurately be called a "Moxie Root Drink Review".  Moxie doesn't really have any of the common flavors associated with root beer.  It's primary flavor is that of gentian root extractive.
Moxie is a dark soda.  It comes in clear bottles, which usually is a sign of root beer gone wrong when you see that. It is one of only a few root beers we have reviewed with caffeine in it.
Moxie is one of the oldest soft drinks around.  It has been made since 1884.  It originated in the New England area, and was once a frontrunner alongside Coca-cola company.  When sugar started to get expensive, Moxie stocked up, and cut back on advertising, whereas Coke found a good mix of the two.  The rest is history!  You can find Coca-cola in every town and every state… almost every county.  Moxie, however, is found mostly in the New England area, and select other locations.  Can't find it locally?  Buy Moxie Soda HERE!
Since we review root beer only on Handy Father…
We gave the Moxie root beer review a score of 1.75 out of 5 stars.
It wasn't a terrible drink, but if you're expecting root beer, you'll be disappointed.
Moxie ingredients: Carbonated water, high fructose corn syrup and/or sugar, natural and artificial flavors, caramel color, sodium benzoate (a preservative), gentian root extractives, phosphoric acid, caffeine and citric acid.
Interestingly, we found that Moxie used to advertise their soda with horse-shaped cars, and coca-cola used pin-up girls.  Shocker as to why one lasted and the other didn't…