Father Daughter Date Night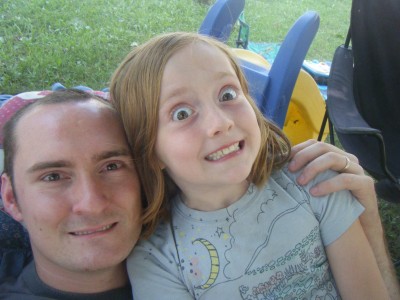 Father daughter date night, is a tradition this handy father follows.  I have three kids, and try to make it a point every month to take at least one night, and make it special for one child.
When it is father daughter night out, I take my daughter to a sit-down restaurant.  I open the doors for her, and make her feel special.  She is special.
My daughter deserves to be respected and treated well.  I know this.  She doesn't know this.  I am teaching her lessons by my actions, that she can carry forward into dating relationships later on.  She is ten years old.  Hopefully I have at least 5 years before she even asks to go on a date.
During dinner, in a sit-down restaurant, where my daughter and I talk about how she's doing in school.  We talk about the boys she likes.  We talk about what she thinks of family matters at the time. We usually pass on desert.


No, I'm not skipping out to keep the father daughter date night cheaper.  After dinner we go to a movie, or do something else fun for her.  Snacks are usually involved.
Ideas for father daughter date night
(keep in mind she's 10)
Talking during a sit-down dinner.
Go to a movie.
Parks and walking trails.
Bowling
Toy shopping
Go to a play.
Ideas for conversation during father daughter date night
What a date is.
How you should treat a lady.
Likes & dislikes
Family life
Biblical values in life.
Boys. (If you have to)
Final thoughts about father daughter date night
Father daughter date night is worthwhile.  I think date nights with your kids builds confidence in them.  It shows them that they're special. No one can show a daughter what she should be treated like in a date, better than her father.
Do you do father daughter date night?  What suggestions do you have for activities, conversation with your daughter?