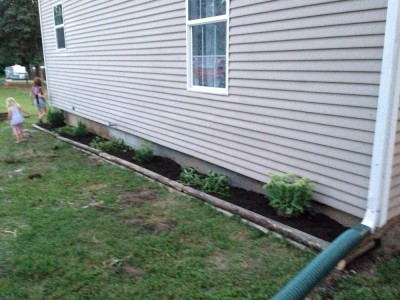 The DIY flower garden is probably one of the most basic things you can do to beautify your yard besides mowing.
(Related: did you build your DIY flower garden, but don't know what to fill it with? Read this book – The Flower Gardener's Bible
)
It is coming into the dog days of summer, and it was about 100 degrees yesterday.  We have been thinking about redoing our flower bed beside our house.  Since planting time is generally earlier in the year, the local stores have deep discounts on gardening supplies.  We sprang at the chance to buy 100% organic compost for our flower bed at a 90% off retail discount!
We decided that our DIY flower garden was the right size already, but it should be raised.  We re-purposed some timbers from others, and doubled the height of the existing flower bed.  Our garden measures 30'x18″.  We bought some weed barrier fabric and laid it out. We added a 4-5″ layer of compost on top of the flower bed and transplanted our plants that were already in the garden.
Beside from looking a lot better, the flower bed provides a spark of creativity in the family, as we are now looking forward to what might be planted there.
The transplanted plants in our DIY garden were in amongst the weeds when we bought the house.  I don't know if they will all live, but that's okay, as we are contemplating tiger lilies for the whole bed.
The kids will have fun watering the garden and will have opportunity to grow some plants of their own.
We have a relatively small yard, and are considering garden vegetables in this bed as well.  When I see the garden in the back (see this post about DIY garden boxes) I think having my pumpkins in this bed would work better than the 2'x2′ bed.