Cooking and eating freshwater drum
My dad and I were recently fishing at Reelfoot Lake, TN.  We went to the Cypress Point Resort for a 4-day fishing trip. It was the first full week of May 2014.  The winds were high and we had difficulty catching the crappie we wanted. Our plan each year is to eat many of our meals out of the lake… Fish we caught.  With the lack of fish being caught in the form of crappie, we found ourselves in a small bay that was producing several catfish as well as freshwater drum (sheepshead).  Some locals call the freshwater drum white perch.  We had mixed feelings among people when we asked if anyone does any cooking and eating freshwater drum.  Most of the attendants at the resort said, "some people eat it".
Due to the shortage of more conventional fish, we decided cooking and eating freshwater drum was worth a try.  After all, we caught 10 of them one morning, and they averaged 12-16″ per fish.  I selected 4 freshwater drum to prepare for lunch.
Cooking and eating freshwater drum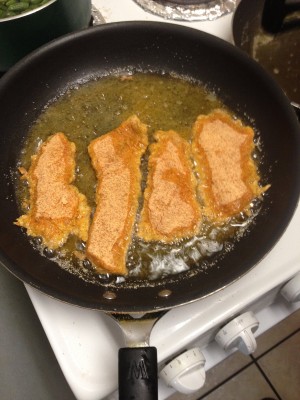 We filleted the drum in the same manner as any panfish.  The drum's fillets are interesting in that the fish has little belly meat.  The dorsal muscle on the freshwater drum is thick.  It is the main part of the fillet, and the only real usable meat in a drum.
I don't have any knowledge of how the local may prepare their freshwater drum.
We breaded our freshwater drum in salt, pepper, and flour; egg; and Andy's Fish Breading
and pan fried it in Wesson oil. The smaller freshwater drum fried up completely fine.  When we decided that cooking and eating freshwater drum was what we intended to do, it was not without apprehension due to conflicting stories of taste and quality.  The small fillet from the drum was not a terrible texture or flavor.  I did notice that is was a bit more oily than most fish, but not entirely inedible.
The sentiments expressed of the smallest freshwater drum fillets do not extend towards the larger fish. When we cooked and ate the larger freshwater drum, the meat was very chewy.  It, instead of flaking, broke apart in chunky pieces that brought me to the brink of vomiting.  It was a very unpleasant fillet, and not one that I'll eat again.
Picture of the Freshwater Drum
I hope next year isn't as hard fishing, or we may have to resort to eating Asian Carp! Cooking and eating freshwater drum certainly won't be on our menu again…