Brownie Caramel Cream Root Beer Review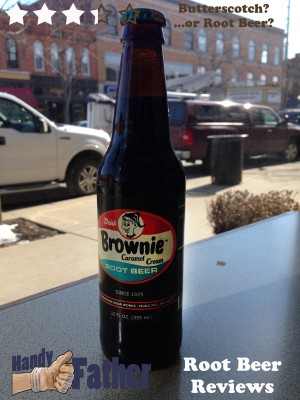 It has been a while since we at HandyFather.com did a root beer review.  It seems that our local sources for new root beers to try has been depleted.
I was excited to find this Brownie Caramel Cream Root Beer just because it has been so long since the last root beer review.  Usually when a root beer name has a flavor other than root beer, like Brownie "Caramel Cream" Root Beer, I am skeptical about how much I'll enjoy it.
It was no surprise to me to find that Brownie Caramel Cream Root Beer doesn't taste like "root beer" at all.  It actually has a strong butterscotch flavor, with little other dominating notes.
We started this root beer review like any other, frosted mugs, and five reviewers.  The two gals has praises for this brew stating things like, "Very creamy and sweet. Would be very good for a desert! =) Strong Caramel taste.", and Um…yum! Delicious like a caramel sundae!  It is for certain creamy and caramely; however, still has the fizz you would expect from a soda.  Its not too thick. I really enjoyed this :)".
The three fellas in the root beer review are more critical of the Brownie Caramel Cream Root Beer because we seem to pit it up against previous root beers.  Although it has good color, a satisfying foamy head, and also a pleasant aroma, it lacks that root beer flavor, simply delivering a sweet and butterscotch-like flavor.  It isn't a soda I'd pick up again.
Here is how the Brownie Caramel Cream root beer review votes came in:
Brandi – 3.5
Susan – 4.5
Blake – 3
Scott – 3
Curtis – 2.75
This is a total of 3.35, rounded down to 3.25 for the graphic.  If you're into "desert", and not root beer, give Brownie Caramel Cream Root Beer
a try.